For all the fashion savvy individuals out there, here are biggest trends that you should look out for this season.
Monochrome is set to be one of the biggest trends for SS13 if the catwalks are anything to go by. It may be a big step from the usual bright colours and floral prints we usually see in summer but I think this is an exception. There is something effortlessly chic about monochrome, perhaps it is the clean contrast and strong lines but this will be the look of the season. Marc by Marc Jacob new line is the one leading the pack down the black and white path with his SS13 collections already stirring a lot of interest, especially his little striped numbers. Everyone has that staple black or white piece at the back of the wardrobe so now is your chance to mix and match and make a statement this season.
We couldn't talk about the new trends for this season without talking about the go to colours for spring and summer. It is all about warm and bright colours which is great news to get you in to the summer spirit with reds, oranges, pinks and yellows. These colours are filtering into the high street already with bold colour blocking from head to toe. If these bold colours aren't to your taste the easiest way to wear this trend is with some striking accessories and this way you can transform your favourite outfits to fit with the summer look.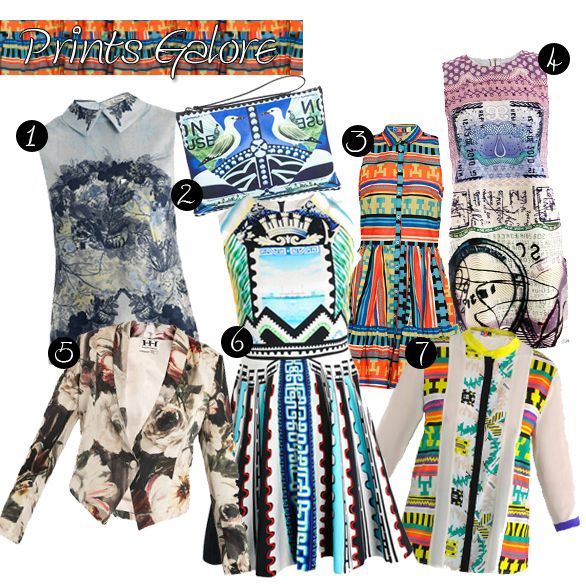 It wouldn't be summer without a couple of prints and this season does not disappoint. Floral will be making it big as it does every summer but things are beginning to look a little abstract with designers using bold and figurative prints too. Mary Katrantzou's collection showcases a gorgeous selection of global themed dresses inspired by round the world summer travels with postage stamps and tropical motifs. While other designers are opting for the geometric style, linking nicely with the stripes, that will be everywhere soon too. It is all about a clever mix of colours and well positioned shapes for an optical design.
So, what trend do you like most?