I know y'all excited for this! Well, I know I am! Time flies kasi it's this Saturday na! So without further ado, I'm presenting you Bloggers United 5! Read on 'cause I'll be giving away 10 FREE tickets to the event!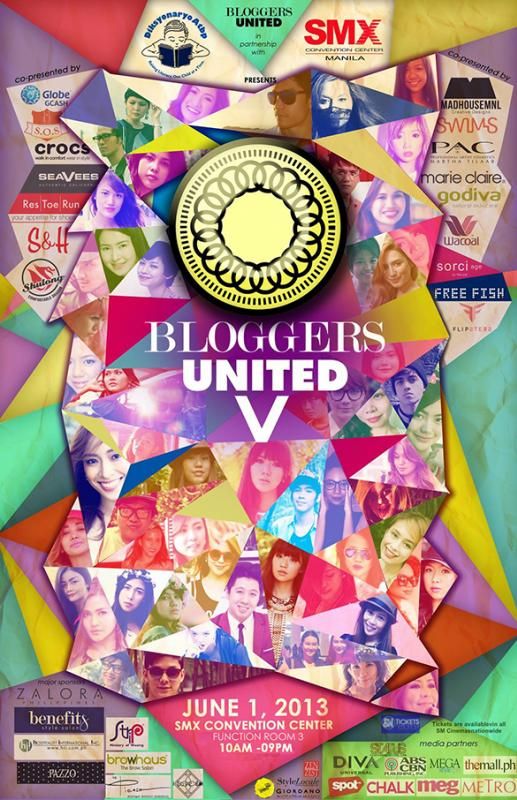 Get ready for another round of intense shopping experience as 60+ of Manila's top fashion bloggers open their closets once again in a big bazaar this June 1, from 10am to 8pm, at our BETTER venue, the SMX Convention Center Function Room 3! Bloggers United gets even BIGGER with our partner bazaar The Great Luxe Sale of Mall of Asia and SMX, happening from May 31 to June 2 at the SMX Hall 1.
 Celebrity bloggers Divine Lee, Victor Basa, Nicole Anderson, and Maggie Wilson will all grace the event, and guest international blogger Maya Kibbel of Elle Girl Japan will also be there!
Don't forget to charge your cameras, stash some extra cash, and dress your best as we celebrate another day of personal style and expression! Tickets are available for P100 in all SM Cinemas nationwide, and at the event venue. Use GCASH to purchase your tickets on June 1 to get 50% discount, plus awesome freebies!
For more information and updates, follow Bloggers United:
Facebook | Twitter | Instagram
Official Hashtag: #BU5
CO-PRESENTERS
Marie Claire
PAC The Professional Artist Cosmetics
MAJOR SPONSORS
Hospitality International, Inc.
The Picasso Boutique Services Residences
MINOR SPONSORS
MEDIA SPONSORS
DONORS
GIVEAWAY TIME:

Want to win tickets to BU5? Yes, I'll be giving away ten (10) tickets to 10 lucky readers! All you have to do is enter the giveaway through the Rafflecopter I made below (So that it would be easy for you). Just follow the instructions and your good to go! 

Good luck and see you there! I'll be there the whole day, so if you see me don't forget to say hi! :-)